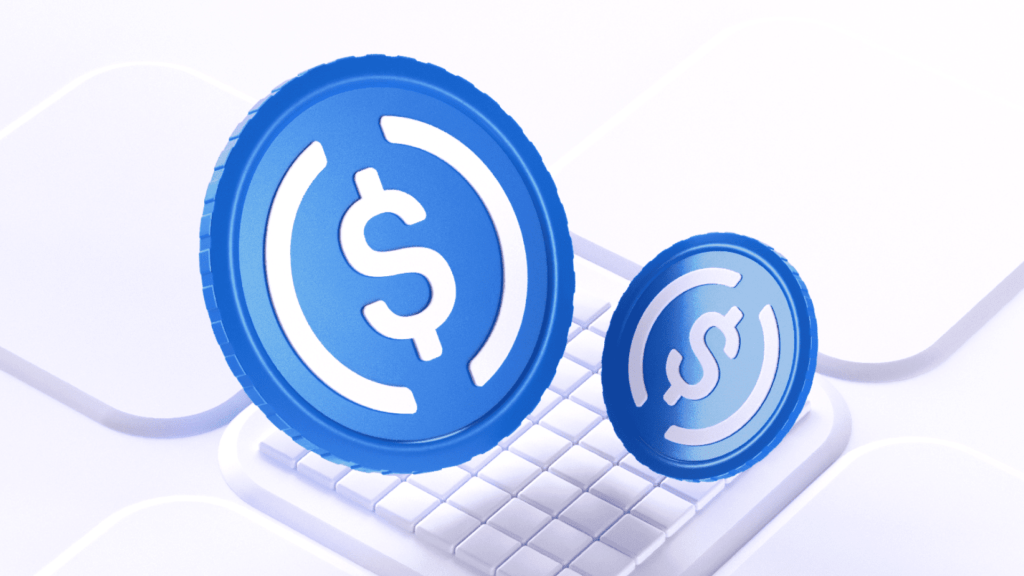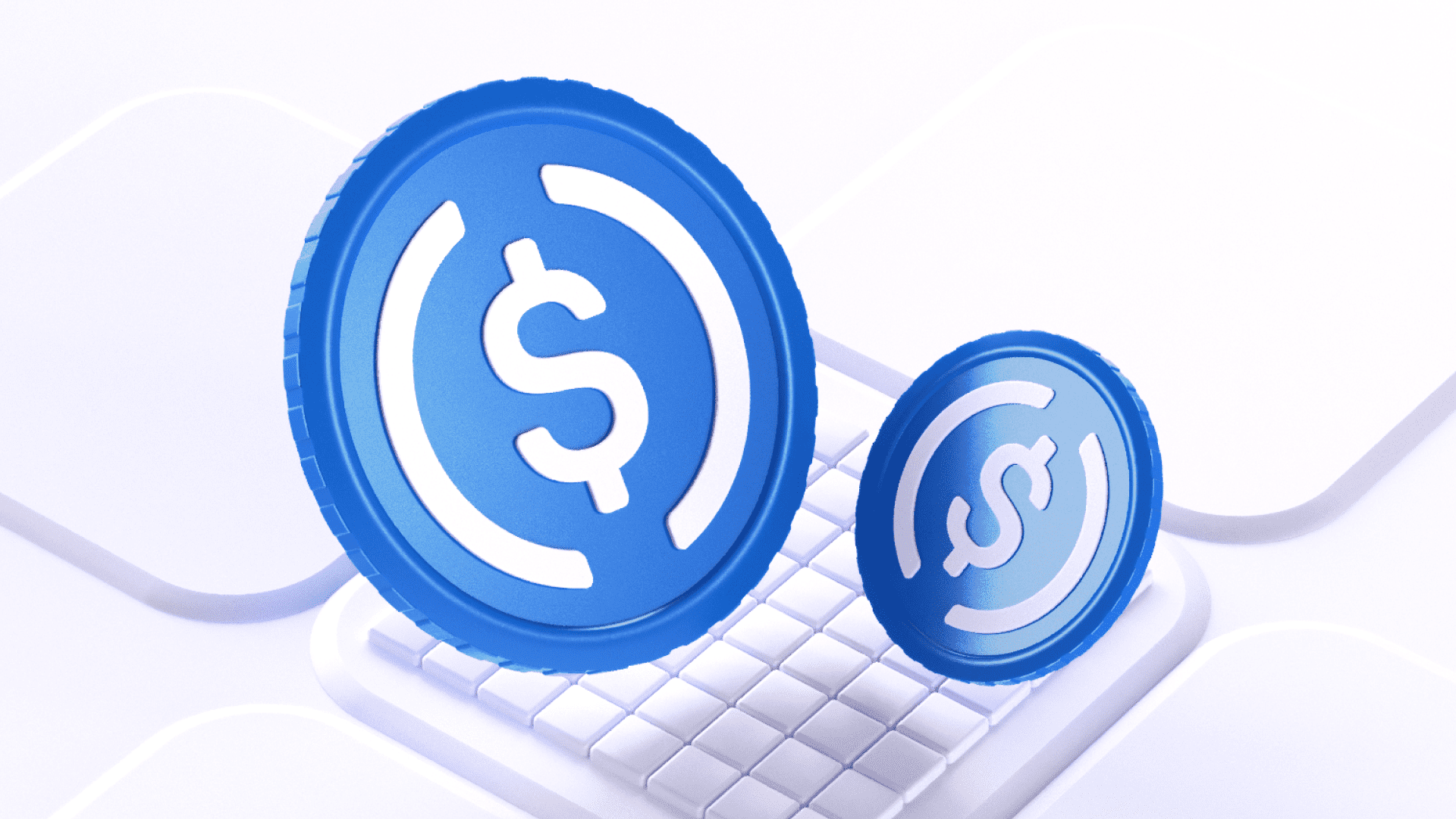 USD Coin (USDC) is the second most popular stablecoin after USDT. The value of stablecoins is pegged to other assets, such as the US dollar or gold. Stablecoins help to maintain financial stability when working with cryptocurrencies.
Let's take a look at how USDC works!
What is USD Coin (USDC)
USD Coin (USDC) is a centralized cryptocurrency pegged to the US dollar. One USDC is always equal to one US dollar. Like USDT, USDC is backed by fiat reserves.
USDC was launched in 2018 by Circle and Coinbase on the Ethereum blockchain. But then USDC began to be issued on other blockchains, such as Solana or Tron. As a result, the transaction speed and scalability of USDC has increased.
Today, USDC is in sixth place by capitalization among all cryptocurrencies. Today, USDC capitalization exceeded $25 billion (according to CoinMarketCap).
Why you may need USDC:
To protect your funds against fluctuations in the crypto market.
To easily exchange cryptocurrencies for dollars and vice versa.
To use the advantages of the blockchain: transparency, security, and speed.
To use it as a bridge between the traditional and cryptocurrency markets.
How USDC works
USD Coin is a stablecoin pegged to the US dollar in a ratio of 1:1. This is how it works:
Step 1. Users send dollars to trusted issuing parties:
Circle is the developer of USDC. Responsible for interaction with regulators and partners.
Coinbase is the largest crypto exchange. It helps to integrate USDC with other cryptocurrencies.
Step 2. These companies issue the same number of USDC tokens in exchange for the received dollars.
Step 3. Then, once created, USDC tokens are free to move between addresses.
Step 4. If necessary, you can exchange USDC back for dollars at issuing companies at any time.
Thus, a reliable peg of USDC to the US dollar is ensured. Issuers are required to hold the necessary dollar reserves to cover all issued USDC tokens. Audit companies regularly check these reserves.
Benefits of using USDC
Compared to other cryptocurrencies, USD Coin has several advantages. All of them are based on the fact that it is a stablecoin.
Price stability. The cost of one USDC is always equal to one US dollar, which eliminates sharp fluctuations in the exchange rate.
High liquidity. You can easily exchange USDC for dollars or other cryptocurrencies on most exchanges and platforms.
Fast Transactions. USDC transactions happen almost instantly.
Transparency. Transaction records and USDC emissions are open and available for monitoring.
Compatibility. Thousands of crypto exchanges, wallets, and decentralized applications support the USDC asset.
Due to these qualities, USD Coin is convenient to use as a digital dollar in the cryptocurrency ecosystem. It combines the advantages of both traditional and digital money.
How you can use USDC
USD Coin has many ways of use. Here are the main ones:
Trading on crypto exchanges. It is convenient for quick transactions due to easy conversion.
Savings. Holding funds in USDC, you can avoid volatility and preserve their value in dollar terms.
The DeFi ecosystem. People use USDC in various decentralized finance applications for lending, investment, insurance, and other services.
International transfers. You can use USDC to transfer fiat from one country to another. It's relevant if you work with Russia and other countries with restrictions. You can buy USDC for one fiat currency and then sell the stablecoin for the fiat you need. You can see the best rates in the Monetory search.
USDC risks and restrictions
USDC is not without its drawbacks. Руку are some of them:
Dependency on issuers. The functioning of the USDC depends on the reliability and liquidity of the issuing companies.
Threats of hacker attacks. USDC is vulnerable to hacker attacks on the blockchain and wallets as any cryptocurrency.
And the main danger is decoupling the exchange rate from the dollar. The problem with fiat-backed stablecoins is that they are managed by the company that issues them. So there is always the possibility of manipulation, fraud, or human factors. Here we immediately recall the situation with Silicon Valley Bank, the largest collapse since the 2008 crisis in the United States. The decrease in the value of USDC came after the operator of this stablecoin, Circle, announced that it had $3.3 billion in Silicon Valley Bank accounts. As soon as the information reached the media that Circle's funds were in SVB, the USDC began to decouple from the dollar. It lost 8%, after which Coinbase suspended USDC trading.
Which one is better: USDC or USDT
Let's compare two popular stablecoins. What is the difference between USDT and USDC?
USDC:
It has greater transparency and regular audits.
Works in the legal field and works closely with regulators.
More developed ecosystem than USDT.
A high level of trust from the crypto community, even despite the recent scandal mentioned above.
USDT:
It occupies a leading position in terms of capitalization among stablecoins.
It has more distribution.
USDT has additional risks associated with insufficient transparency.
Big concerns from regulators in different countries.
But the fact is that you do not need to choose between them the best option. The ideal solution here, as in many other cases, is diversification. Don't store your savings in one stablecoin. Use USDT, USDC, and others in conjunction. 
This article may have been in your mail
Selected Monetory Blog content not to be missed - in our newsletters. Choose and subscribe - we're already preparing a newsletter for you.