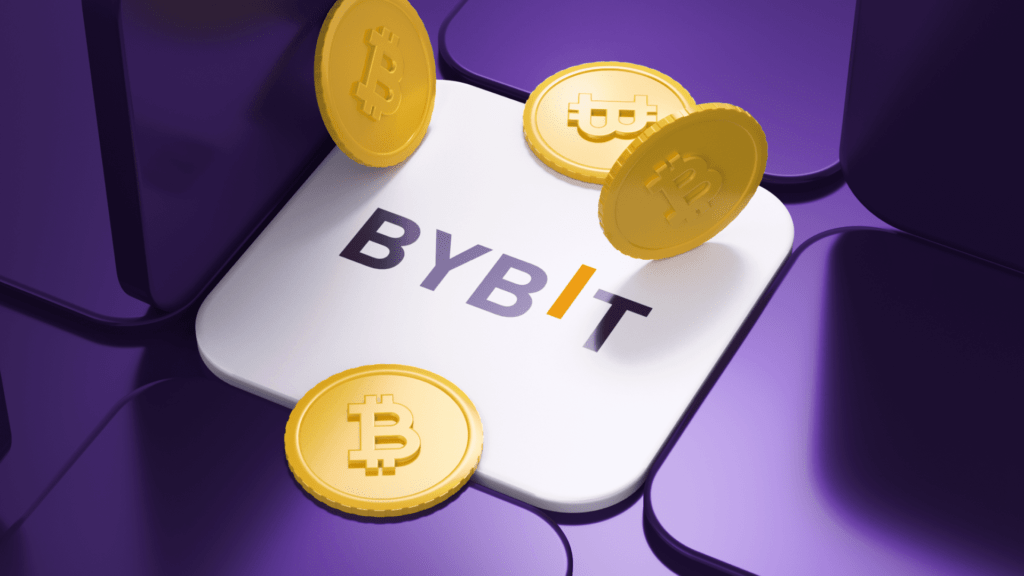 P2P platforms provide a convenient way to buy and sell cryptocurrency directly between users. We already checked this process on Binance. Today we will explore the same algorithm on Bybit. You will learn how to register and use Bybit to buy crypto. 
Brief Overview of the Bybit Cryptocurrency Exchange
Founded in Singapore in 2018, Bybit has become one of the world's largest cryptocurrency exchanges in just a few years. Initially, the platform specialized only in trading derivatives: futures contracts on Bitcoin, Ethereum, and other popular cryptos. However, the platform gradually became a full-stack ecosystem.
On Bybit, you can stake cryptocurrencies through the Bybit Earn program. There is a proprietary loyalty token system based on MNT (formerly BIT). Users receive MNT for activity on the exchange, such as trading at a certain level or participating in the referral program. MNT tokens can be used to receive discounts on commissions and other bonuses.
In 2020, Bybit launched a P2P section where you can buy and sell cryptocurrencies directly to other users. Today, the P2P section become a significant part of the exchange's turnover.
Bybit is constantly expanding its functions and adding new tools. For example, the TradeGPT feature allows trading with the help of artificial intelligence.
Overall, Bybit is a modern high-tech cryptocurrency exchange with a wide range of services. You can find more information about it in our navigator.
How to register on Bybit
To start using Bybit, you need to go through a simple registration process:
Follow the registration link.
Enter your email or phone number and password. The password must contain at least eight characters, including numbers and letters.
Confirm your registration by clicking on the link in the email.
Complete the identity verification (KYC). You'll need to upload a photo of your passport and a selfie. The first level is sufficient for P2P trading.
Now, you are ready to start trading on the exchange!
How to Trade on P2P
Bybit offers four cryptocurrencies: Bitcoin, Ethereum, USDT, and USDC. You can select the desired crypto and view the current buy and sell orders, including the rate, quantity, and payment methods. One of the unique features is that you can place multiple ads for a single asset. For example, if you have 100 USDT, you can sell them by placing different ads with different conditions and payment methods.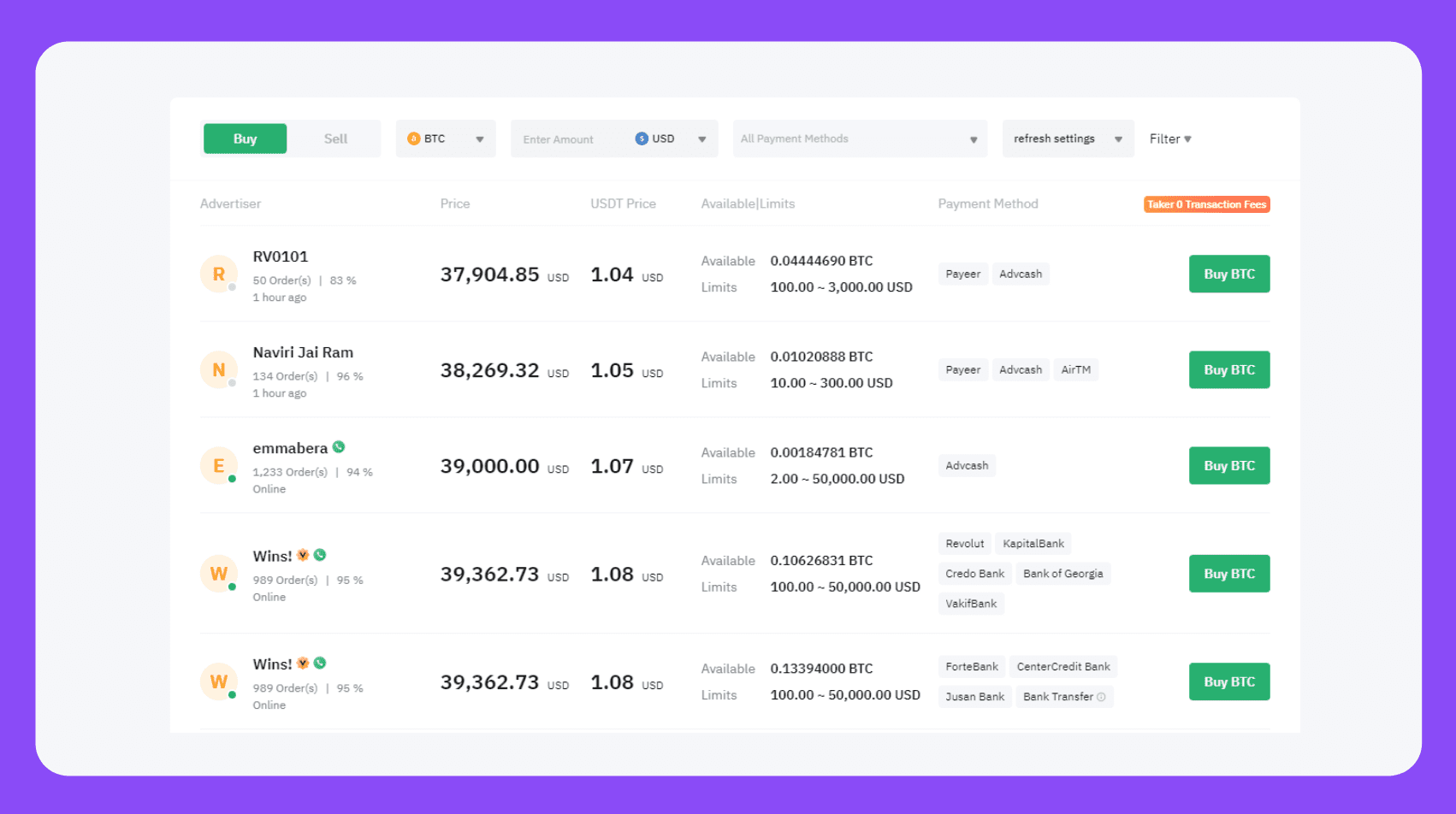 The liquidity is high, especially with many offers for USDT.
There are no fees for both takers and makers.
The P2P transaction limit is up to $20,000 per day with first-level KYC. With the second level, the limit increases to $100,000.
To trade, you need to have an amount equal to 100 USDT in your account. It is for security and to filter out potentially dishonest traders. This restriction applies only to the first transaction.
The process of exchanging cryptocurrencies is not much different from most P2P platforms. You can respond to someone else's ad or post your own. In the first case, carefully read the terms of your counterparty.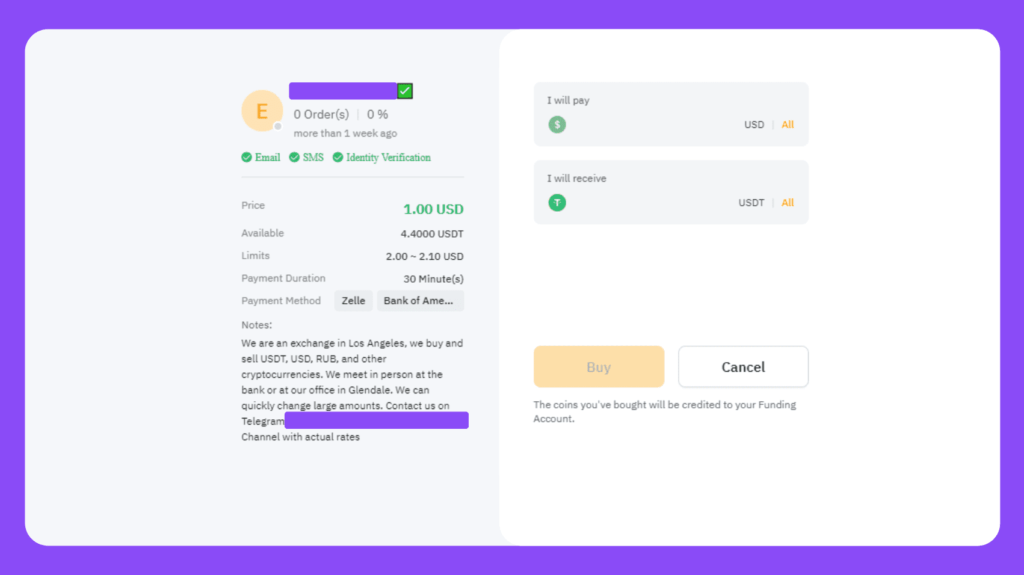 To post your ad, you need to meet several requirements:
Add your phone number and email address
Have KYC 1 or higher
Complete at least five transactions with three or more counterparties within 30 days
At the time of writing this article, there were over 59,000 offers on the platform. To quickly compare rates on Bybit and other platforms, use the Monetory search.
Choose the "Payment Method" option.
In the "Give" column, select a method (Wise, Revolut, or any other method), and in the "Get" column — cryptocurrency, for example, USDT.
Browse all offers or select the necessary platforms using filters.
Other Features
Bybit is not just a platform for P2P trading. There is has almost everything, including:
Spot trading of cryptocurrencies at market price.
Margin trading of crypto derivatives with leverage up to 100x.
Staking — earning passive income by depositing coins on the exchange.
Lending cryptocurrencies at interest.
Referral bonus and cashback program.
Various automated trading schemes — Copy Trading, MetaTrader 4, TradeGPT.
Launchpad — investing in startups.
Advantages and Disadvantages of Bybit
Ecosystem with a wide range of crypto services and products.
High liquidity in the P2P section. After Binance, it is the most popular platform for P2P trading.
No commissions. The service does not charge a fee from both takers and makers on P2P. On the spot market, the commission is 0.1% per transaction.
Wide choice of payment systems.
Mobile applications for iOS and Android.
As for the disadvantages, there are only two main ones:
For the first deal on P2P, an insurance deposit equivalent to 100 USDT is required.
Limited choice of cryptocurrencies — 4 coins are available on P2P: BTC, ETH, USDC, USDT.
Is Bybit Worth Using?
Having an account here will not be superfluous. There are no commissions and many additional tools. So, if you don't have an account on Bybit yet, it's time to create one. The platform will be useful for those who:
Actively trades on P2P — the platform has high liquidity. And there are no commissions.
Advanced crypto user — the platform offers a wide selection of crypto services.
Trades derivatives — this is the original idea of this project. A large selection of contracts, low commissions, available shoulders up to 100x, copy trading, and inverse contracts.
Does not want to go through complex verification procedures — for most functions on the platform, the basic level will be enough, for which only a passport and selfie are required.
Travels or lives in other countries — on Bybit it is convenient to change fiats.
In general, Bybit is a quite convenient and functional platform. New functions and services regularly appear on it, and restrictions for users are not planned yet. So Bybit is worth considering for trading crypto in the current conditions.
This article may have been in your mail
Selected Monetory Blog content not to be missed - in our newsletters. Choose and subscribe - we're already preparing a newsletter for you.