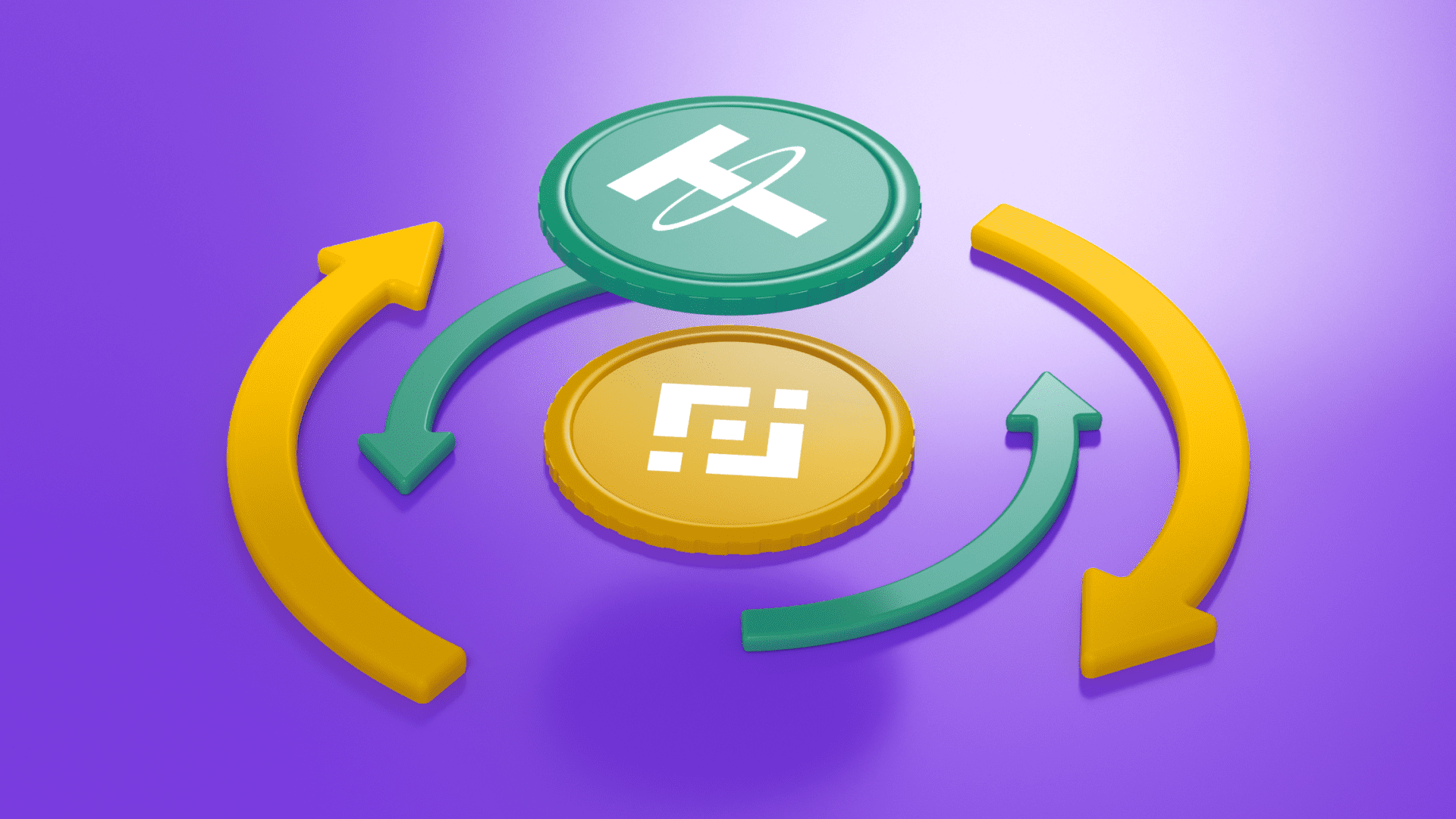 Many people know Binance as a leading cryptocurrency exchange. With its wide range of trading pairs and payment options, Binance provides an easy way to sell and buy Tether (USDT) on its P2P-platform. But how to buy USDT on Binance P2P?
USDT is a most popular stablecoin pegged to the US dollar. This means 1 USDT is always equal to 1 USD, providing relative price stability in the volatile crypto markets. USDT provides a convenient way to hold US dollar value within the crypto ecosystem.
Let's look at how to get set up on Binance and go through the process of buying and selling USDT.
Setting Up a Binance Account
The first step is to register for a Binance account. You'll need to provide your email address or mobile phone and set a strong password, that should include at least 8 characters, 1 capital letter and 1 number. Also you can register within Google or Apple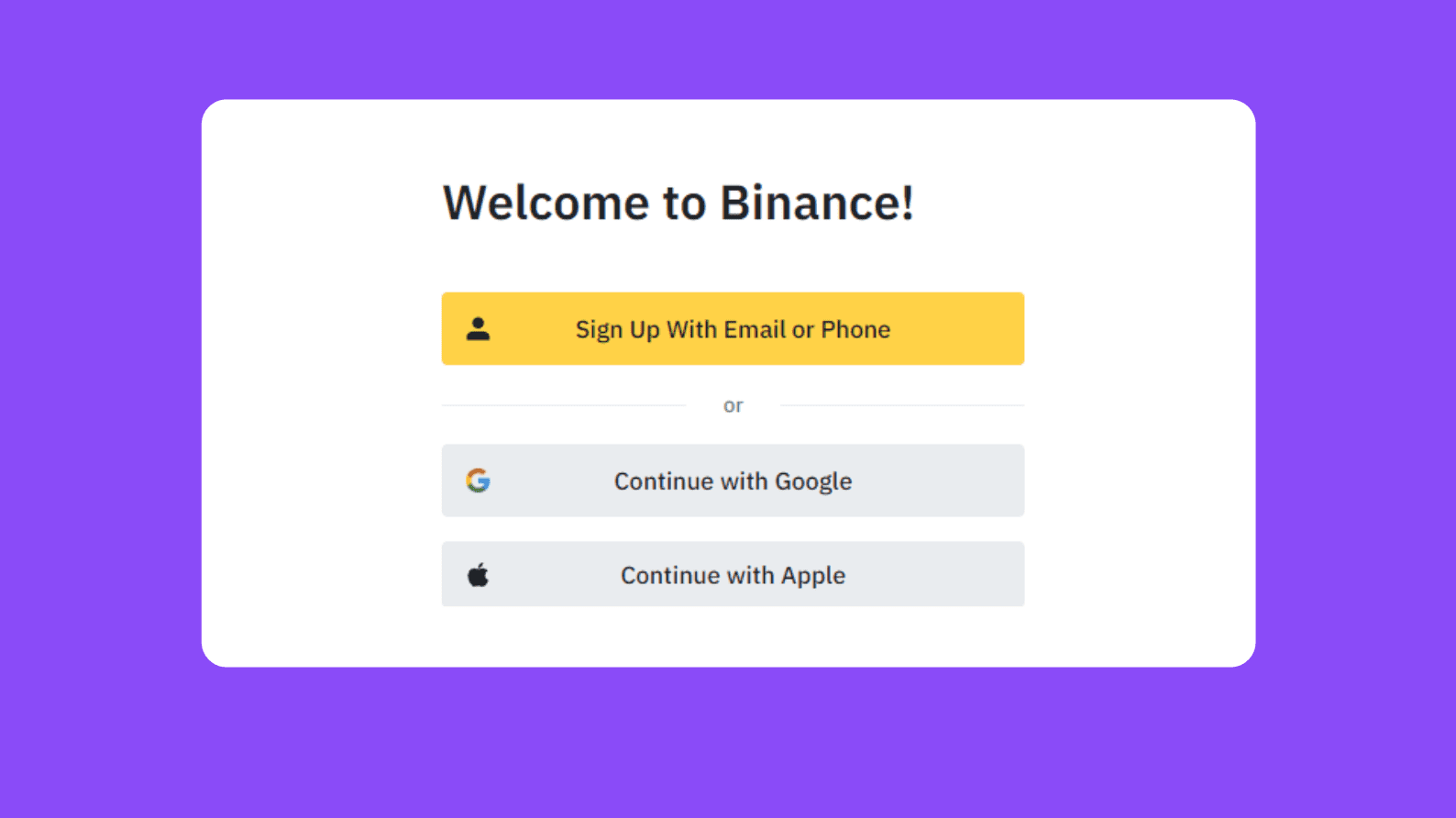 Binance also requires KYC (Know Your Customer) verification to use all its features. You'll have to submit ID documents to prove your identity. Verification can take 10-60 minutes, in rare cases 1-2 days.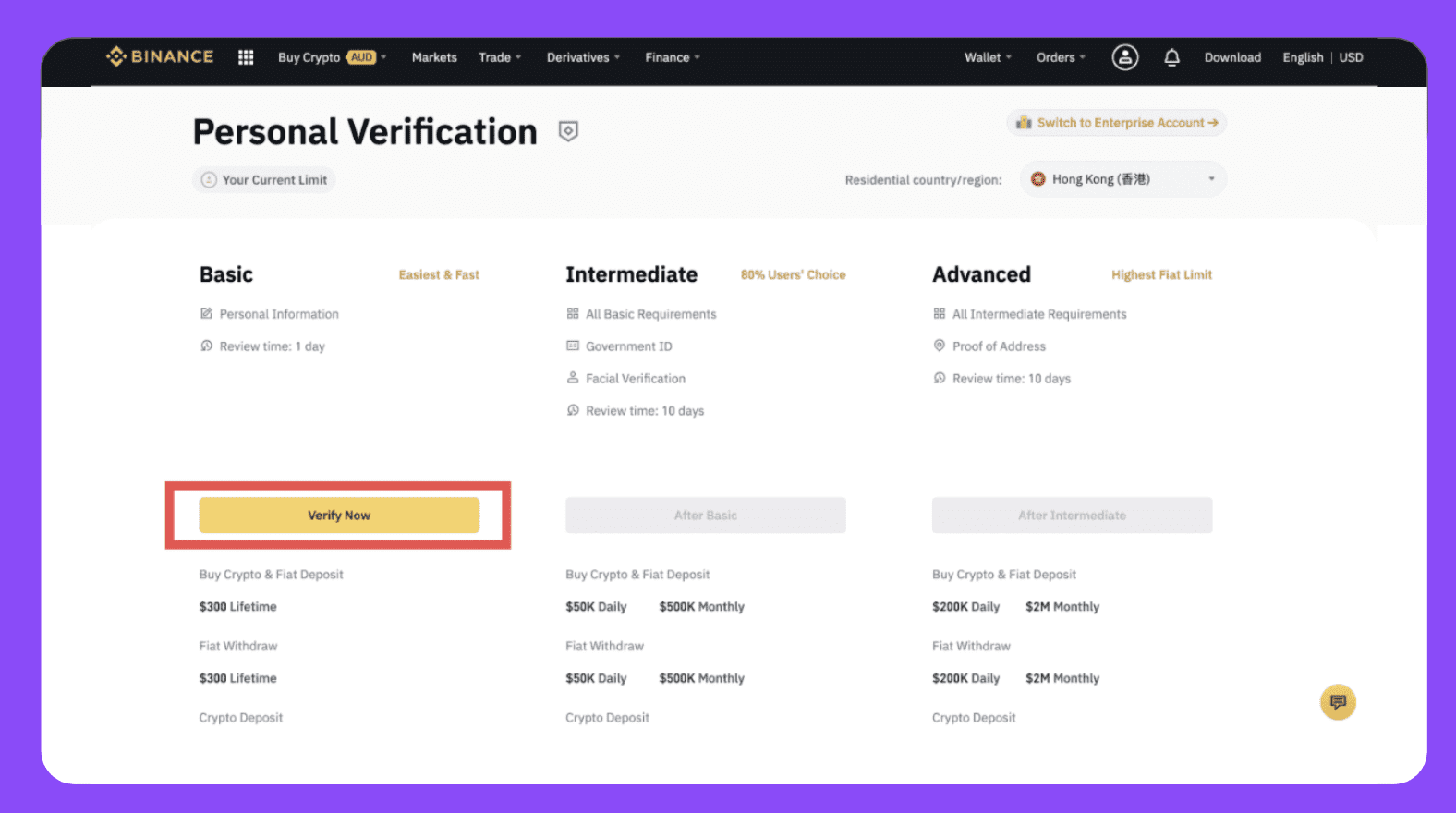 You need to pass at least "Basic" level. Once your account is verified, you can enable 2FA (two-factor authentication) for additional security. This requires entering a code from your mobile authentication app whenever you log in.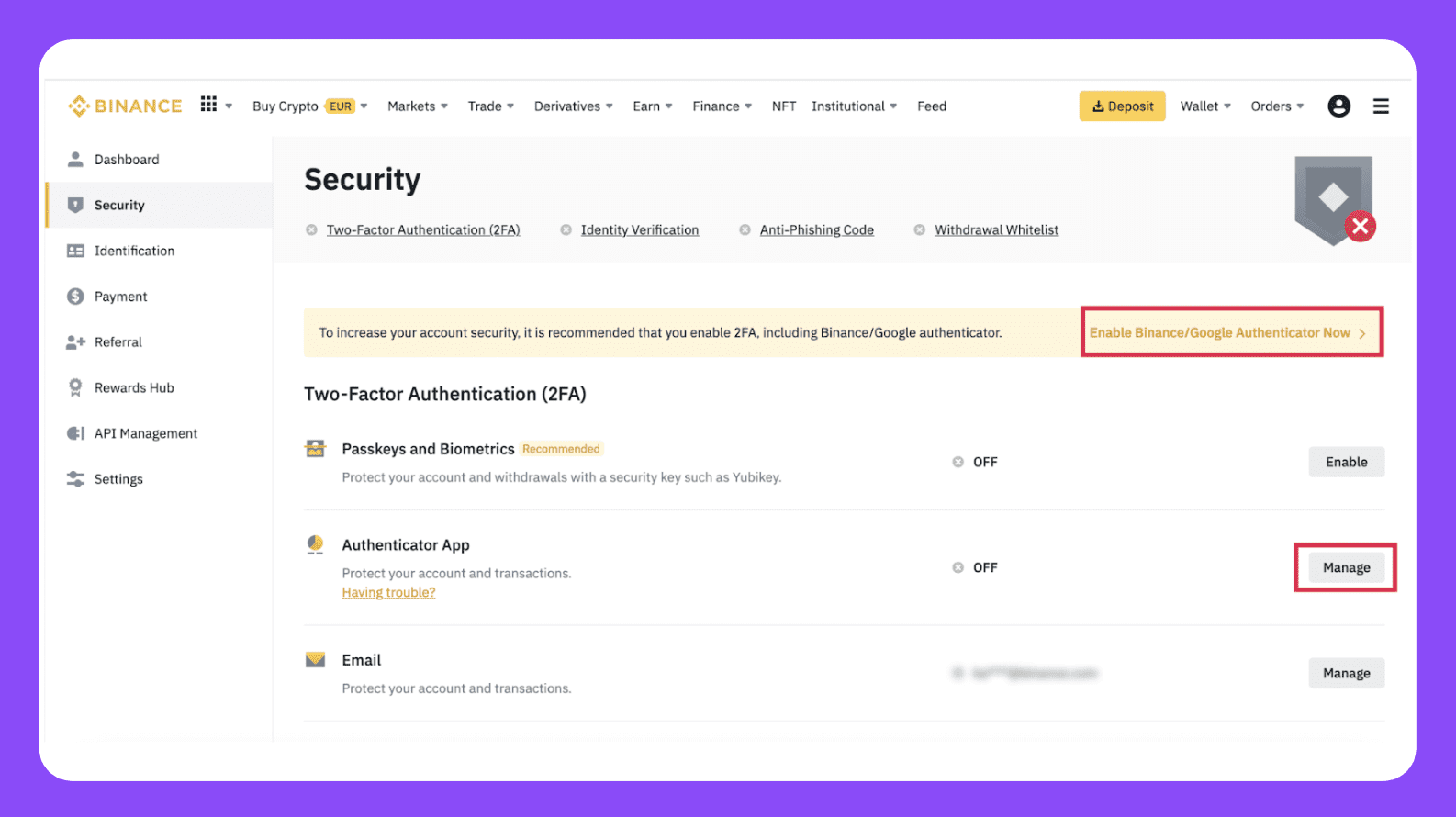 Depositing Funds into Binance
Before buying USDT, you'll need to deposit money into your Binance account. You can do this via:
Bank transfer
Debit / credit card
Cryptocurrency deposit from another wallet or exchange
In a case of bank transfer fees vary depending on the bank and transfer method. For example, a SEPA transfer currently costs 1 euro per deposit.Deposits via bank transfer or card incur a fee of around 1.8%. Depositing crypto is free.
The funds will show up in your Binance wallet once the deposit is confirmed.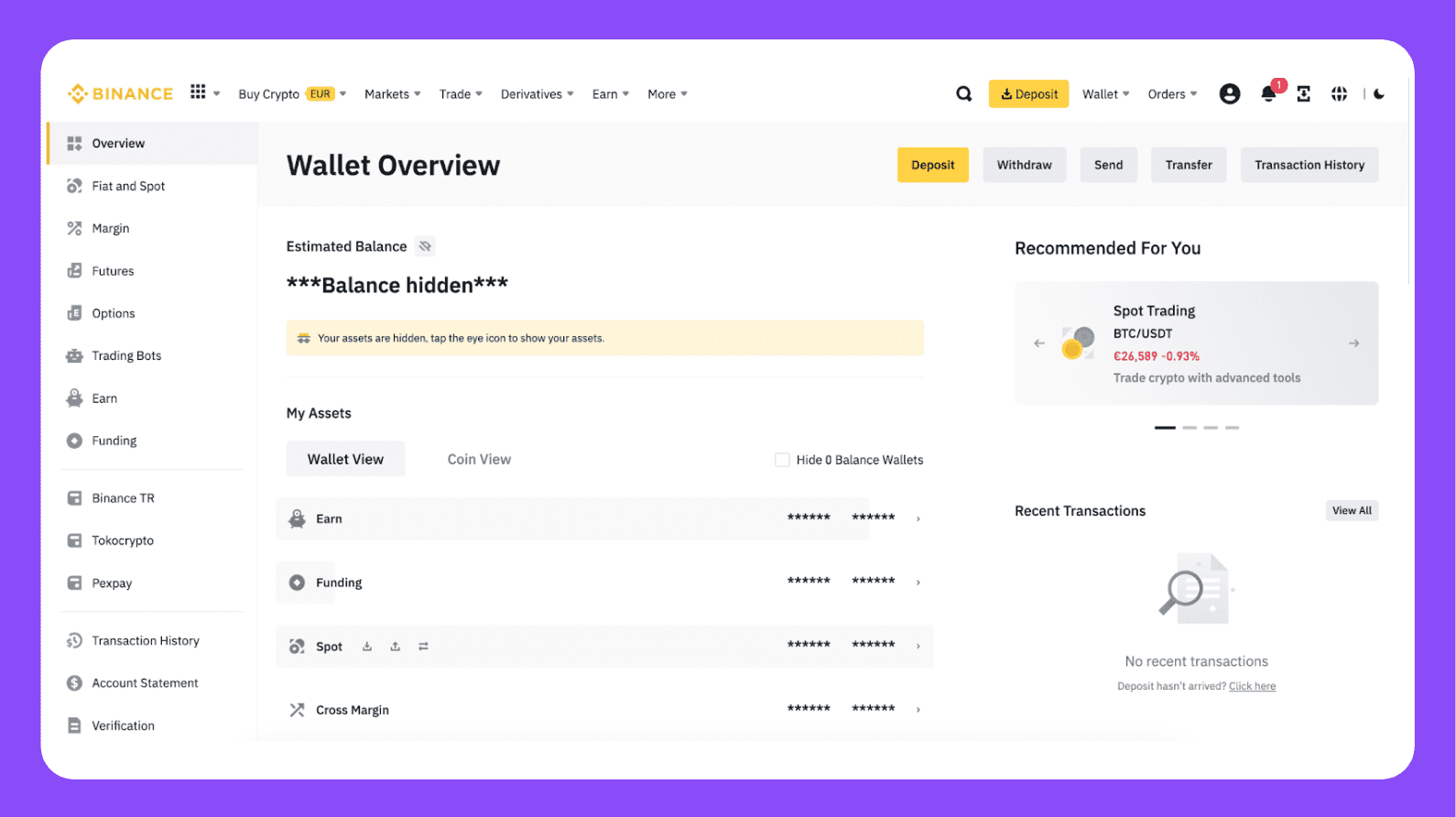 Other option — you can buy USDT directly from the P2P. To do this, follow this steps:
Visit Monetory
Choose searh mode: by currency or by payment method
Choose USDT and, for example, USD and click "Search offers."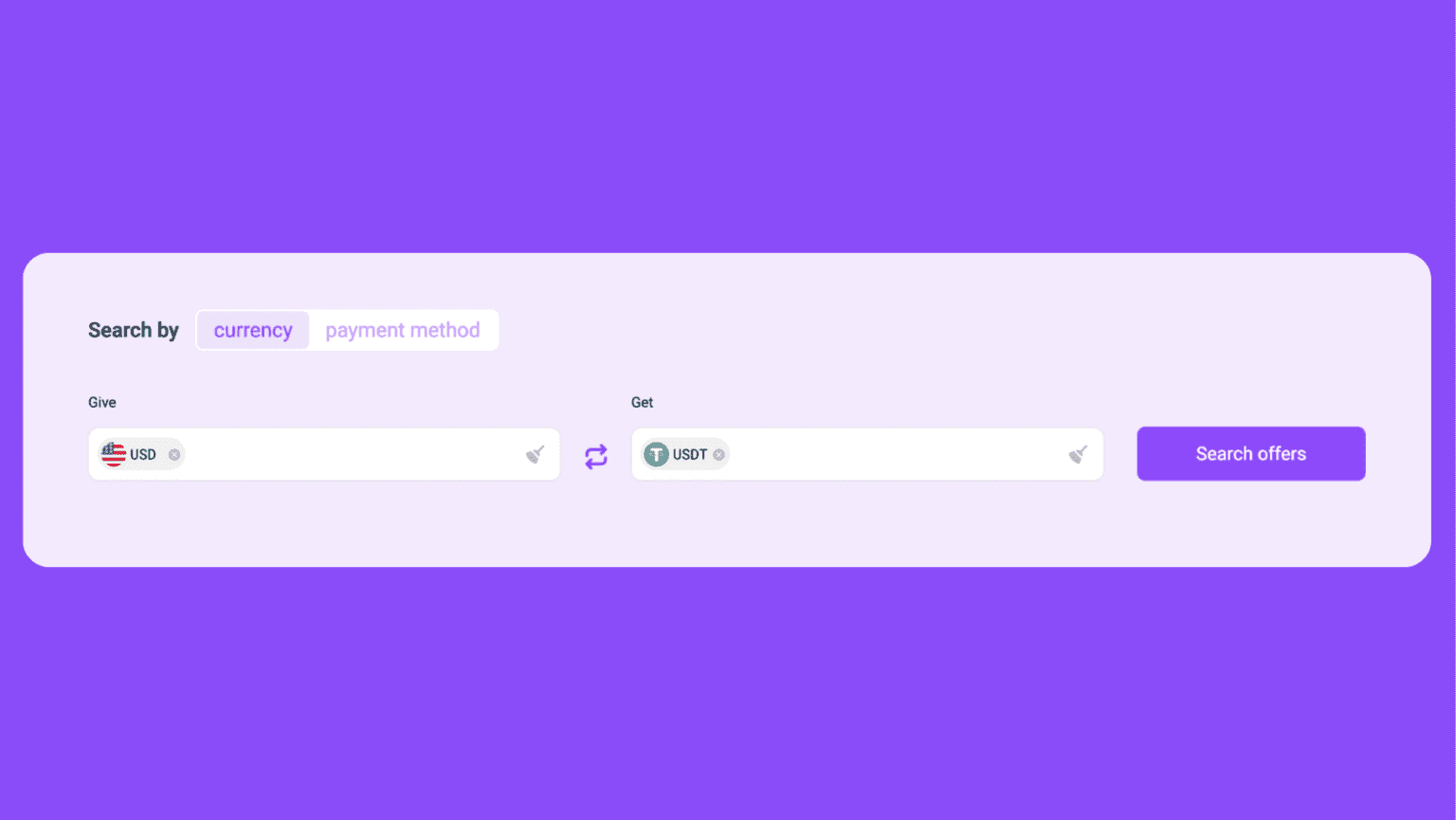 Set filters — we need to choose Binance
Understanding the Binance Interface
The Binance interface can seem complex for beginners. It's user-friendly and convenient.
Here are some key sections:
Markets – view price charts and trading activity for all markets.
Trade – Spot, Margin, P2P and other trading features.
Wallet – Manage your funds and cryptocurrencies
Cryptocurrencies are traded in pairs, like BTC/USDT, ETH/USDT, etc. Clicking on a trading pair shows the market for that pair.
Buying USDT on Binance
Once your account is funded, you can buy USDT. Here are the steps:
From the top menu, choose Trade > Spot to go to the trading screen.
In the right panel, search for the USDT pair you want, like USDT/TRY.
Choose whether you want a market order to buy at the current market price, or a limit order to set a target price.
Enter the USDT amount you want to buy. Make sure you have enough money.
Review the totals, fees, and price, then click Buy USDT to complete the order.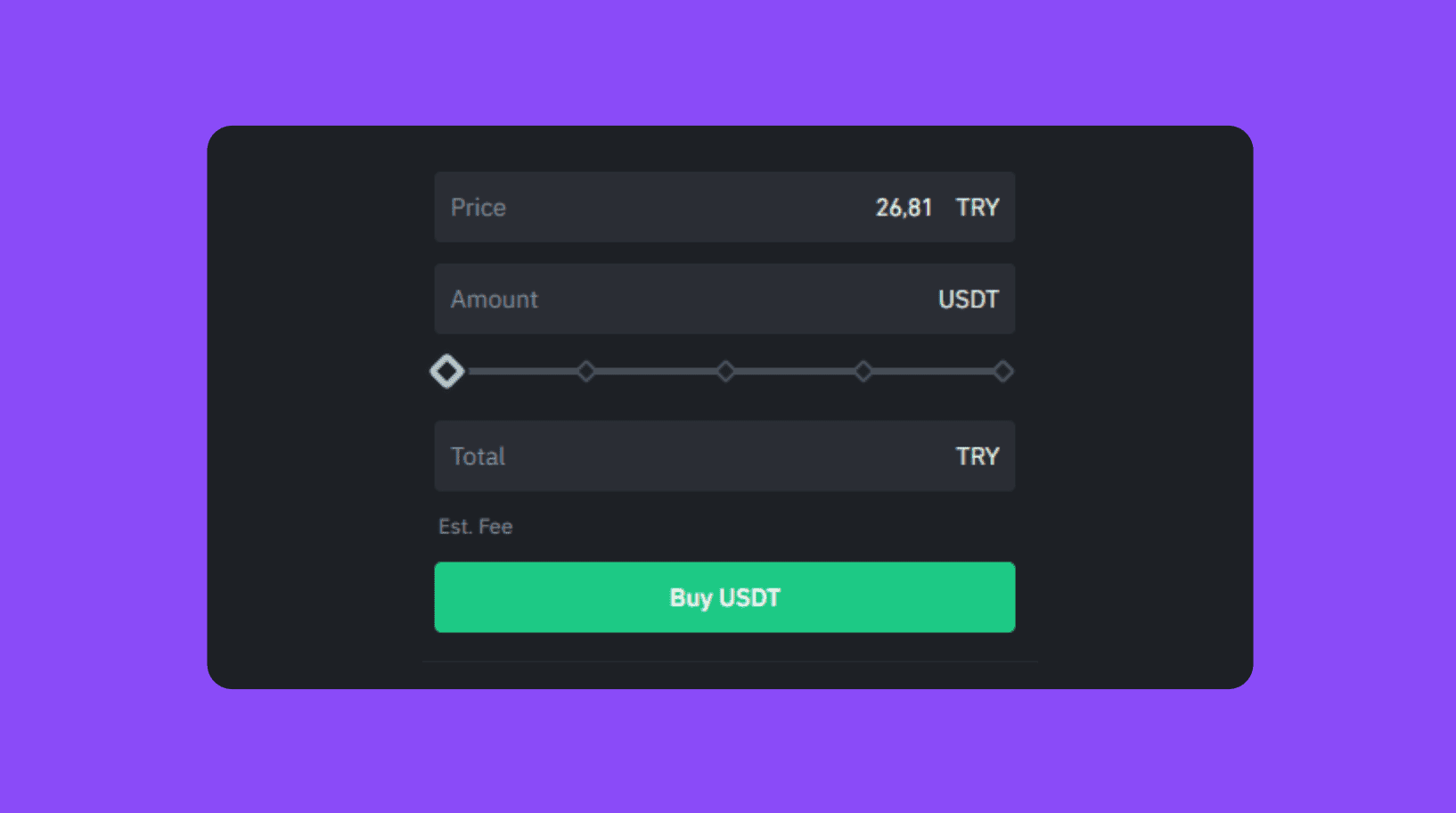 Fees depend on your VIP status. Also if you hold BNB, fees will be reduced.
Selling USDT on Binance
Selling USDT is just as easy:
Go to Trade > Spot and choose the USDT trading pair.
Pick market order or limit order.
Enter the amount of USDT to sell.
Review and click Sell USDT.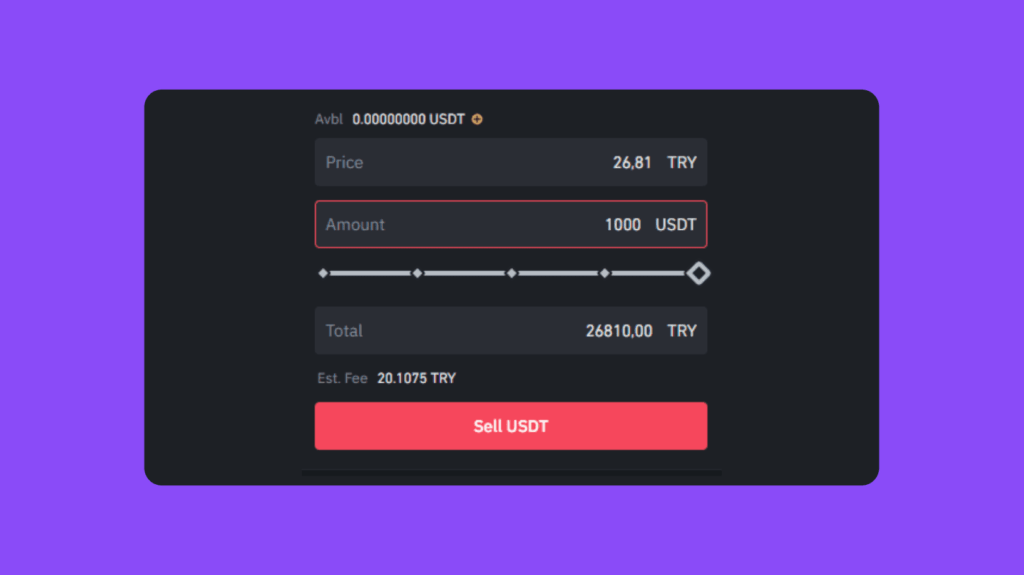 The USDT will be converted to the other crypto or fiat currency.
Withdrawing Funds from Binance
For cashing out your USDT or other cryptocurrencies, you need to make a withdrawal:
Go to Wallet and click Fiat and Spot.
You can choose USDT, or just click Withdraw at the top of the screen.
Enter the withdrawal address, network and amount.
Confirm all verifications and click Submit.
Fees depend on which network you choose. Very low fees on BNB-20, TRC-20, SOL and others. ERC-20 may require large fees. The funds will arrive in your external wallet.
Ensuring Security on Binance
As Binance stores your personal and financial information, it's crucial to take security precautions:
Enable 2FA for your account and do not share your 2FA codes.
Keep your account password and recovery phrases confidential.
Always double check the URL to avoid phishing sites. Use Monetory.Toolkit to protect yourself from such fake-platforms.
Only withdraw to trusted wallets owned by you.
Withdrawing USDT to an External Wallet
For maximum security, you may want to move your USDT holdings out of Binance into a private wallet. Good options include hardware wallets like Trezor or Ledger, mobile wallets like Trust Wallet, or desktop wallets like Exodus. Withdraw the USDT to your preferred wallet's USDT receiving address. Make sure to double check the address for accuracy.
The Benefits of Trading USDT on Binance
There are several advantages of using Binance to trade USDT:
High liquidity — Billions in daily trading volume makes trades fast and efficient.
User-friendly interface — Easy to buy, sell and convert between cryptocurrencies.
Secure platform — Binance has robust security measures in place.
Trusted exchange — Positive reputation as one of the top crypto exchanges.
Is Trading USDT on Binance Worth it
In summary, Binance provides a straightforward, low-cost way to buy and sell USDT stablecoins. Just register an account, complete KYC verification, fund your wallet, and start trading.
Enable security features like 2FA to keep your account safe. Always withdraw large funds to a secure personal wallet under your control.
With its liquid markets, comprehensive coin offerings and intuitive interface, Binance is an ideal platform for trading Tether and other major cryptocurrencies.
FAQ Section
What is USDT and why is it popular on Binance? USDT is a stablecoin pegged to the US dollar. It's popular on Binance for trading crypto pairs and holding USD value.
Do I need to verify my identity on Binance to buy or sell USDT? Yes, you need to complete identity verification to access full trading features on Binance.
Can I use fiat currency to purchase USDT directly on Binance? Yes, you can directly purchase USDT with fiat currencies like EUR, GBP or USD using bank transfer or card payment.
How long does it typically take for a USDT transaction to complete on Binance? USDT transactions typically complete within 30 minutes on Binance.
What's the difference between a market order and a limit order when buying/selling USDT? A market order buys/sells at the current market price. A limit order sets a target price to buy or sell.
Is it safe to store my USDT on Binance, or should I transfer it to a personal wallet? For security, large USDT holdings should be transferred to a private wallet you control, not stored on an exchange.
How do I set up 2FA (Two-Factor Authentication) for added security on Binance? You can enable 2FA in Binance account security to require a code from an authenticator app when logging in.
Are there any daily or monthly limits for buying or selling USDT on Binance? There are no fixed limits. You can trade as much USDT as you have funds for, subject to verification levels.
Can I trade USDT for other cryptocurrencies on Binance? Yes, Binance offers numerous trading pairs to exchange USDT for Bitcoin, Ethereum, BNB and many other cryptos.
What should I do if my deposit or withdrawal of USDT is delayed? Contact Binance customer support if a deposit or withdrawal is delayed more than 2 hours.
How can I track the price of USDT on Binance in real-time? You can view real-time USDT price charts and order books on the Binance trading page.
What measures does Binance have in place to ensure the security of my USDT and other assets? Binance uses cold wallet storage, 2FA, encryption and other tools to secure customer assets and data.
If I face any issues with my USDT transactions on Binance, where can I seek support? You can find support through the Binance website, or contact customer service for help with any USDT transaction issues.
This article may have been in your mail
Selected Monetory Blog content not to be missed - in our newsletters. Choose and subscribe - we're already preparing a newsletter for you.