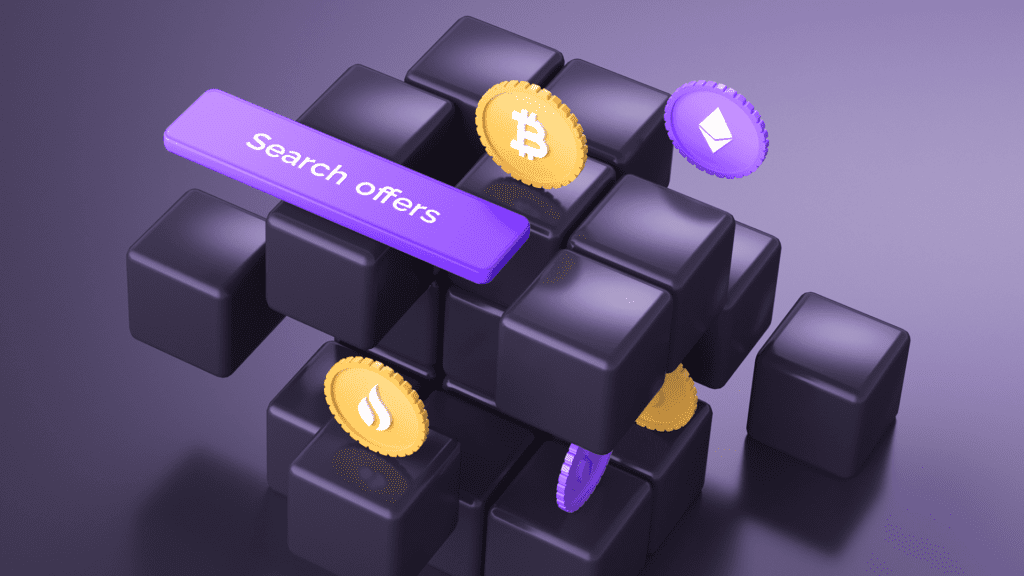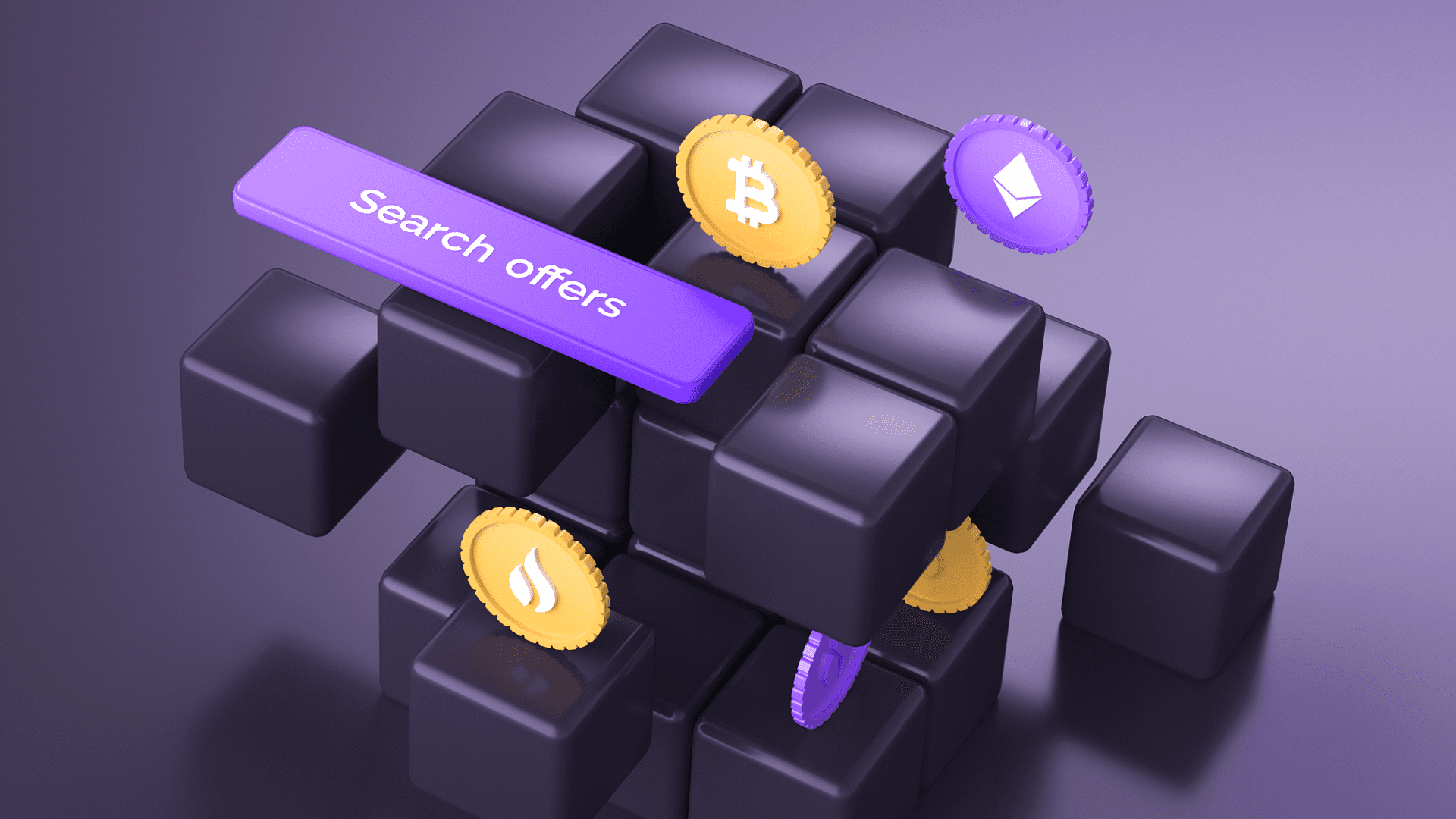 With Monetory, you can find the best exchange offers from dozens of P2P platforms and hundreds of local exchangers. And to reach the desired result, use additional filters. They will help you find offers with the particular bank, payment system, sufficient limits, and reserves. You can also find offers in cash in your city.
In this article, we will tell you what filters are in Monetory and how to use them correctly.
Select Search Mode
The search is available in two modes: by currency or payment method. The search mode works with one database of offers, and as a result, you will see suitable ads from this database. Modes are just different options to formulate a request.
The currency mode allows you to formulate requests by indicating which currency/cryptocurrency you give and receive without specifying a specific payment method, bank, or payment system.
The block "Popular" displays the most searched currencies in your country. You can click on a suitable pair and go directly to the country with the results.
In the currency search mode, you can specify one asset each for giving and receiving. For example, exchange TRY for USDT.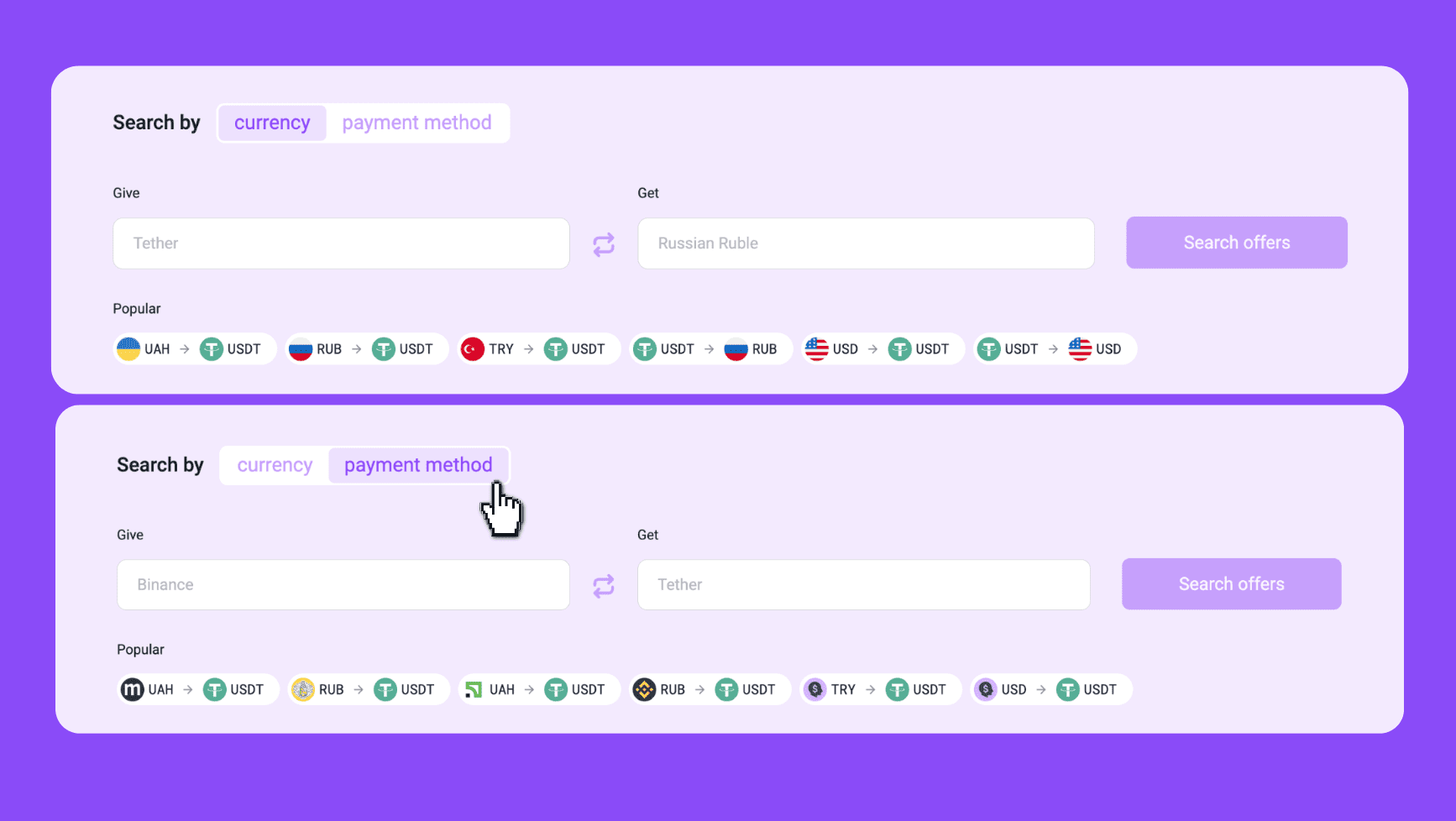 The payment method mode is suitable for those who know how they want to give and receive funds. You can immediately specify the payment system to get more accurate search results.
In this mode, in the Give and Receive fields, you can specify several assets at once. It will be convenient if you have accounts in more than one bank. For example, exchange TRY at Akbank and Ziraat Bank.
Monetory allows you to search for exchange offers without cryptocurrencies. You can specify two fiat currencies and receive corresponding offers.
Depending on which mode you select, the list of filters will be different.
Method 1: Select the Desired Currency or Cryptocurrency
If the popular currency offers do not work for you, choose manually. Click on the Give or Receive field. You can view all options or filter cryptocurrencies, stablecoins, and tokens (1).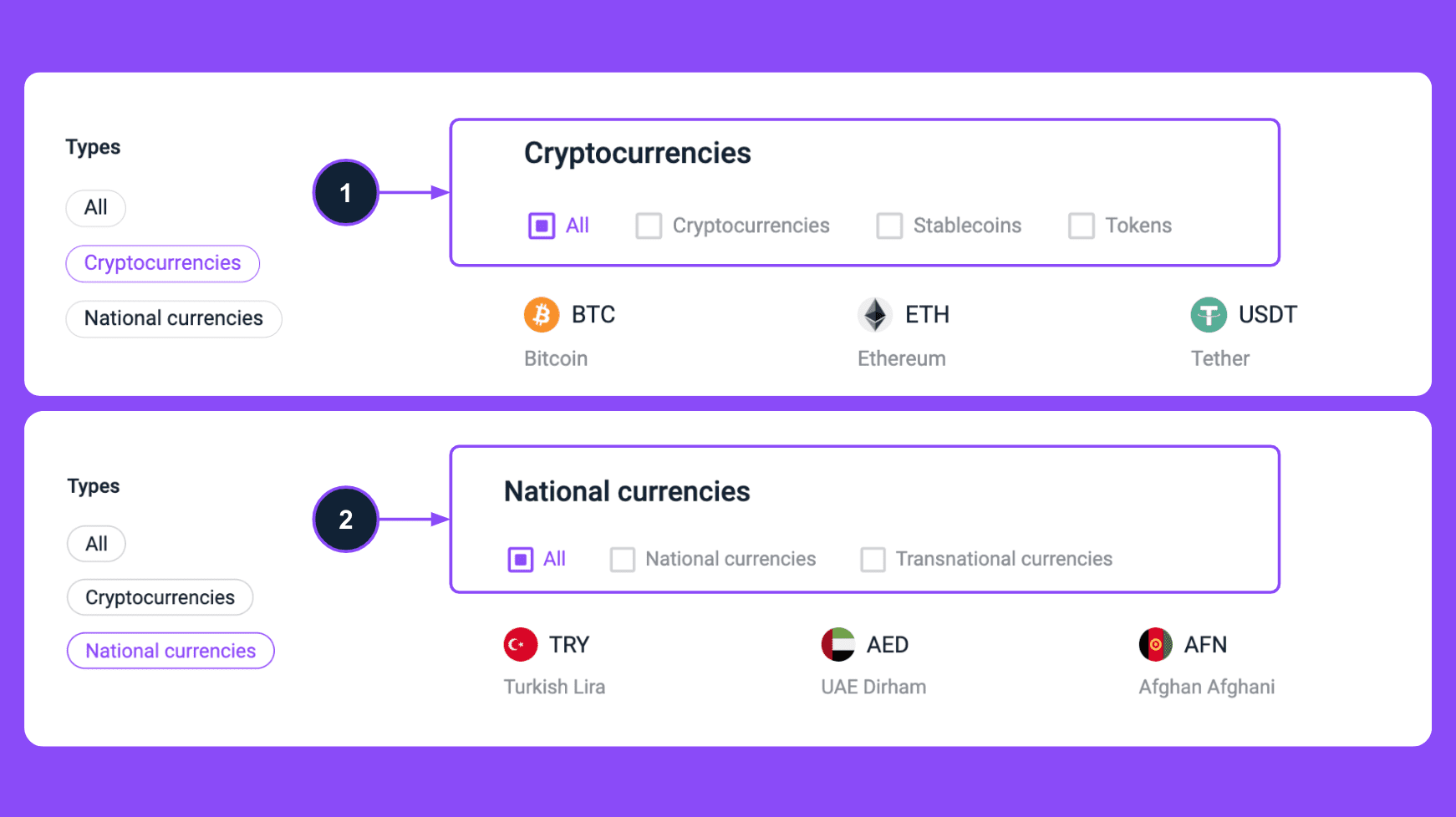 In this block, we proposed sorting according to the following logic:
Cryptocurrencies are the most famous projects that define their blockchain.
Stablecoins are cryptocurrencies connected to fiat currencies or other assets.
Tokens are digital assets associated with any project that does not determine their blockchain.
You can also select national currencies (2) or transnational ones: USD and EUR.
Method 2: Select a Bank or Transfer System
If you choose payment method mode, you can see all the options available in a particular country. To do this, select it in the drop-down menu (1), and Monetory will filter out all relevant systems. You can select a category in the left field (2), and additional filters will be available at the top (3).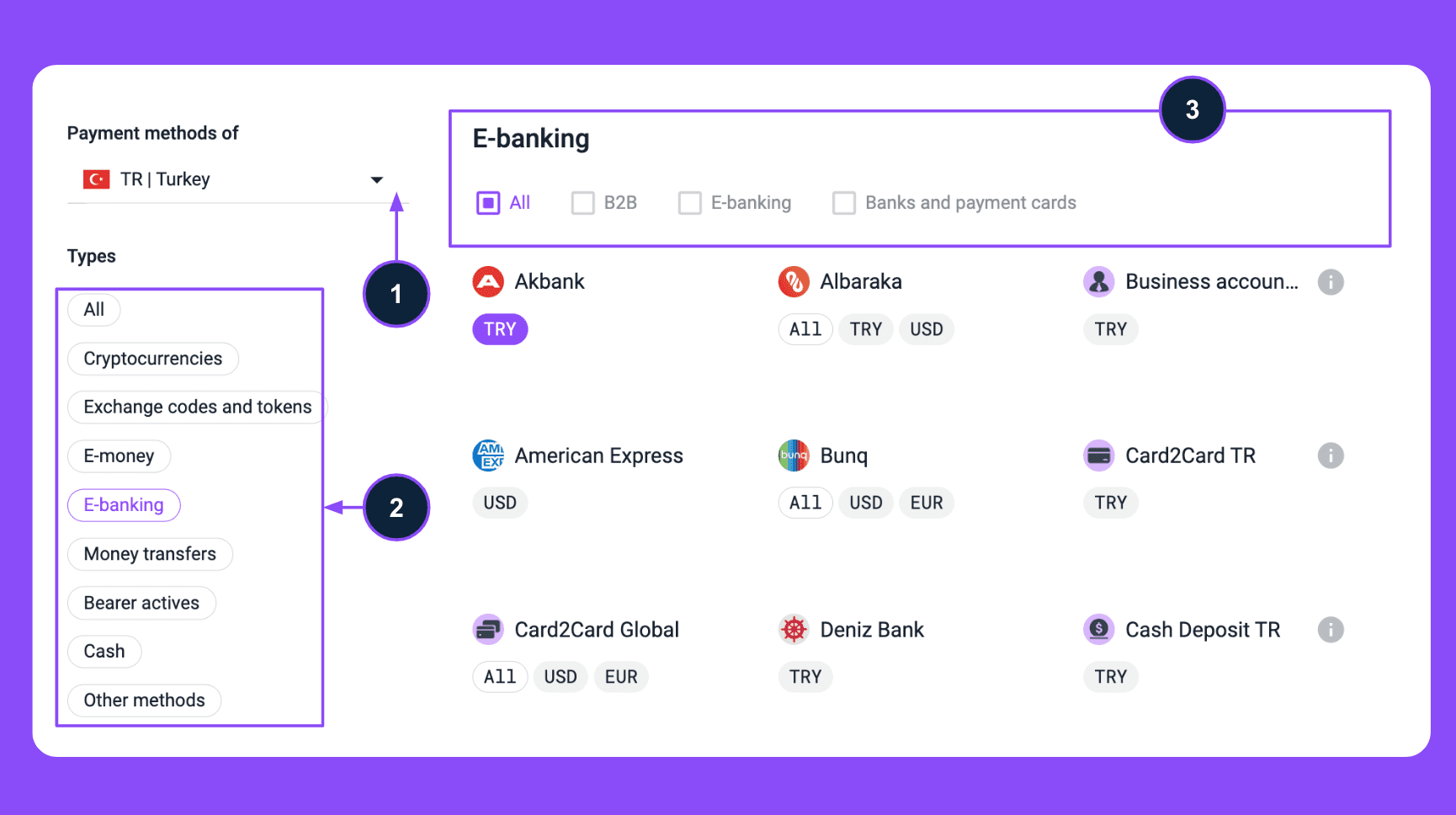 The first two categories are simple. You can select a specific coin, code, or exchange token. But the remaining options we will consider in detail.
| Category | Description |
| --- | --- |
| E-money | Various payment systems: QIWI, PayPal, and others. There are both global services and local ones – for example, the Papara system is available in Turkey. |
| E-banking | Banks available in the selected country. You can search for a specific bank of view banks in a particular country. You can also filter offers with transfers to the account of a legal entity or from card to card. |
| Money transfers | Systems Western Union, Contact and others. |
| Bearer actives | This method includes prepaid cards, coupons, points, checks, etc. For example, you have an Amazon certificate for $100 and want to sell it for crypto by cashing out. |
| Cash | Transferring money in person or depositing cash at a payment system terminal. You can select a specific city or view offers by country. |
| Other Methods | Sending money by mail or topping up a mobile phone account |
Filters in search results
Search results also have filters. They will differ depending on the selected mode. When searching in currency mode, you will see filters by payment method already familiar to you (1).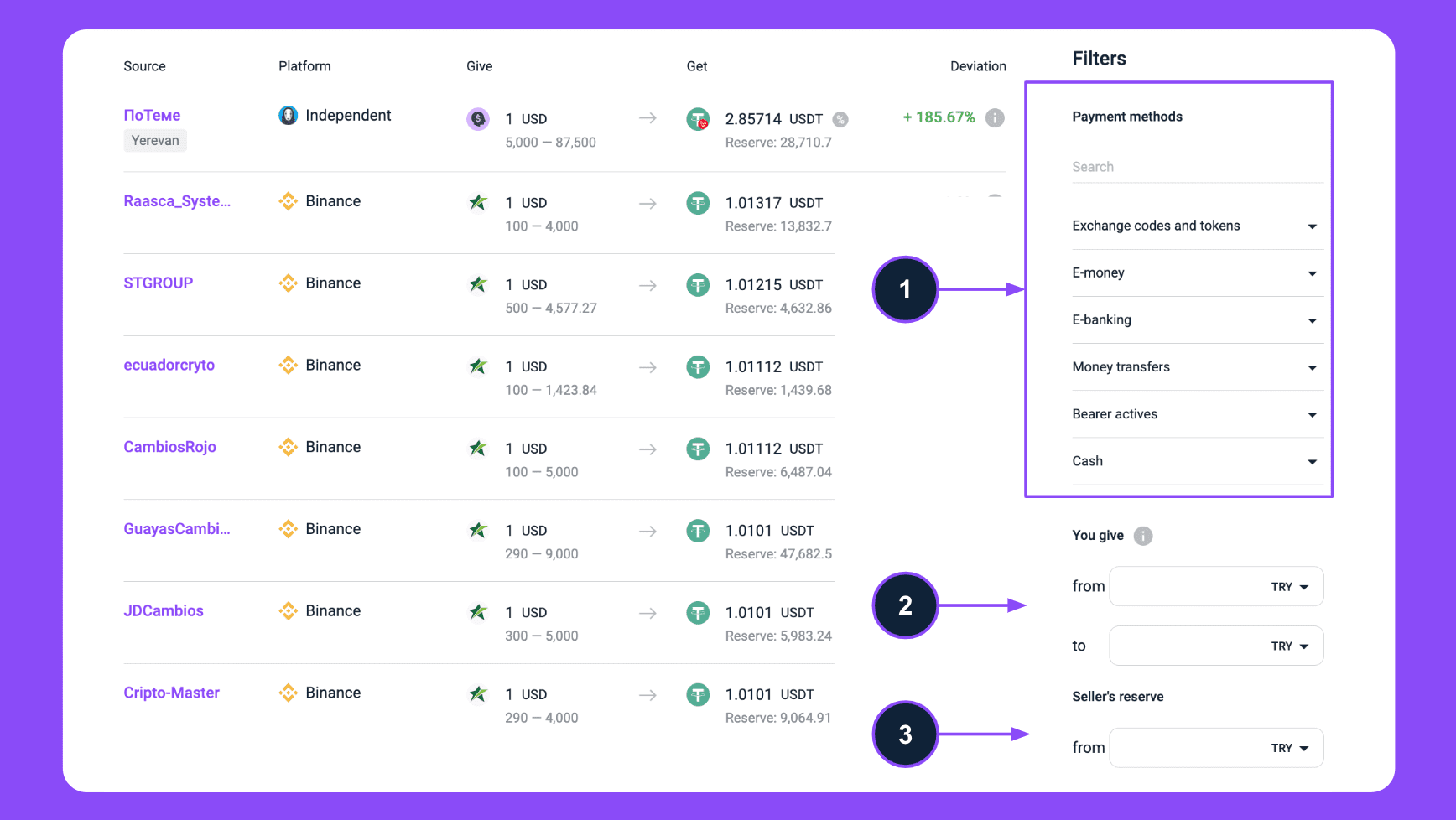 Filters by the amount you give (2) and seller's reserves (3) are also available. For example, you want to exchange a large amount at once. And you are looking for offers from $5,000. Or vice versa, you want to find sellers ready to work with small volumes. To do this, set the lower / upper limit or both. The system will filter out the necessary offers. And to see only those offers that have the required amount in stock, set the seller's reserve.
You can also choose the network supported by the platform on which you plan to make a trade. Or find offers on specific sites or private exchangers by choosing them from the list.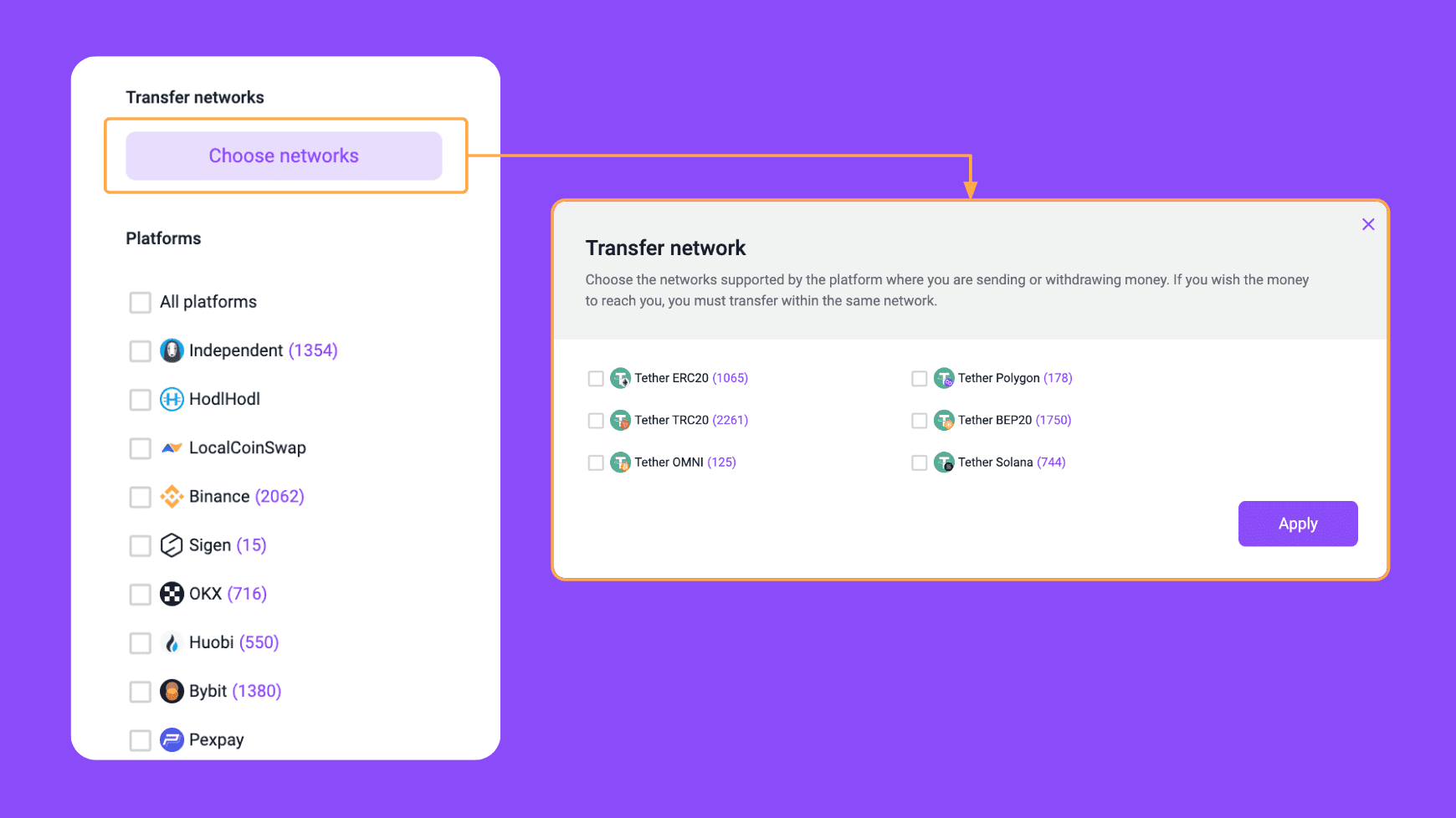 Hide problem offers
Some offers on the platforms are created with errors or do not meet the usual conditions. The system automatically marks them as suspicious. Here are some reasons for this:
too small volume
out-of-market rate
the trader has not been online for a long time
offer conditions are not performed
for replenishment or withdrawal in the specified payment system, a commission may be charged
Removing such offers from the search is very simple. Just check the box.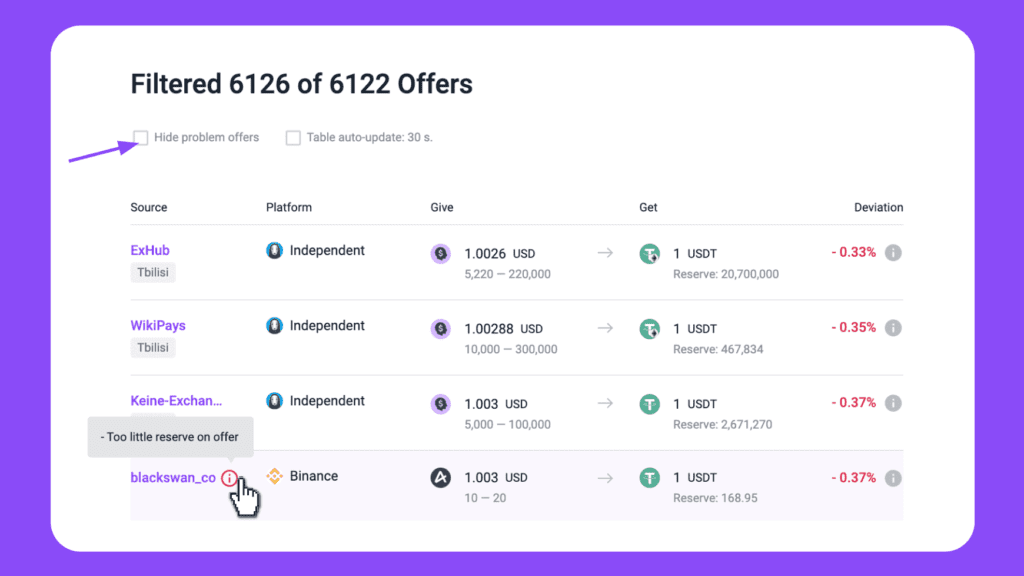 How to Use Filters in Practice
Let's look at a couple of examples.
John has BTC and wants to exchange cryptocurrency for cash EUR, having received the money in Berlin. First, he selects a pair of BTC – EUR in the currency search mode (1). Then he puts a tick in front of the "cash" in the filters (2) and selects the city of the transaction – Berlin. Finally, it sets the seller's reserve (3) to filter out offers where there is the amount he needs.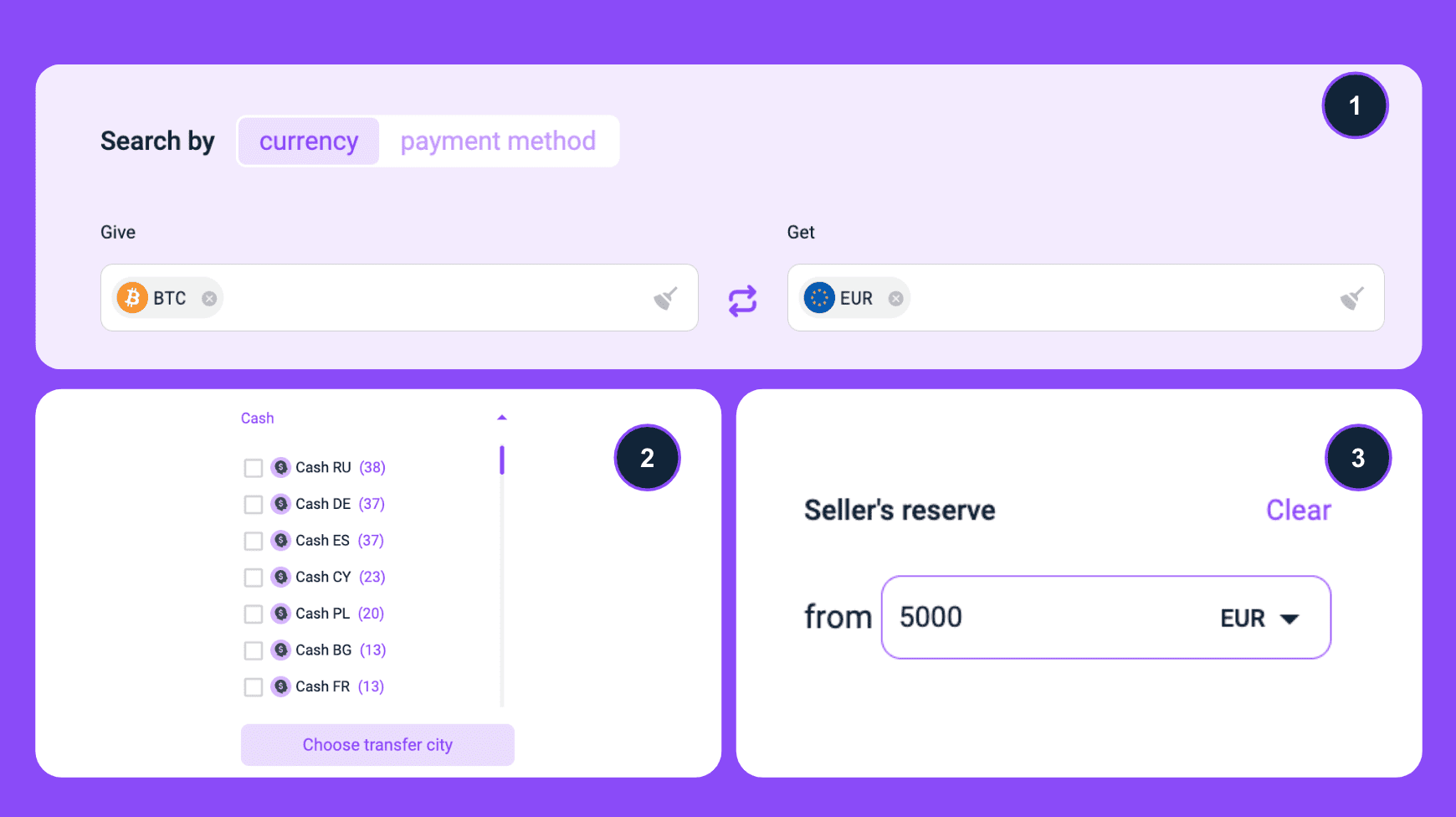 In the search results, he will see only current offers in Berlin, with a specified amount in cash.
Now let's deal with Elif, who lives in Turkey. She received a salary in USDT on Binance, and he wants to withdraw it to the local payment system Papara. Preferably at one time, so she is looking for those who work with limits from 20000 TRY. She searches in payment method mode (1) and enters the desired values. Then sets the limit (2) and selects Binance from the list of platforms (3).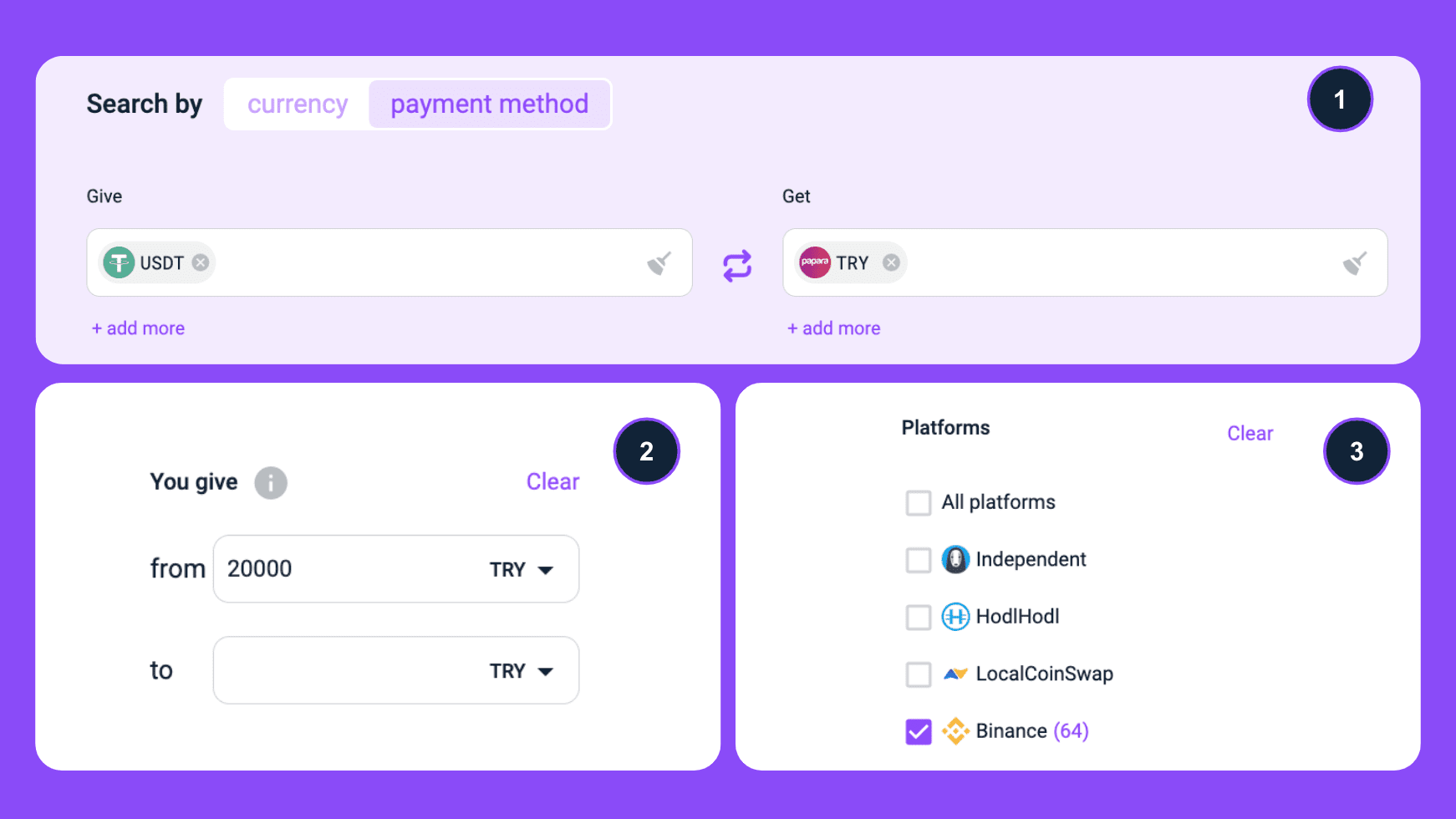 Monetory filters out only those offers that meet all the conditions.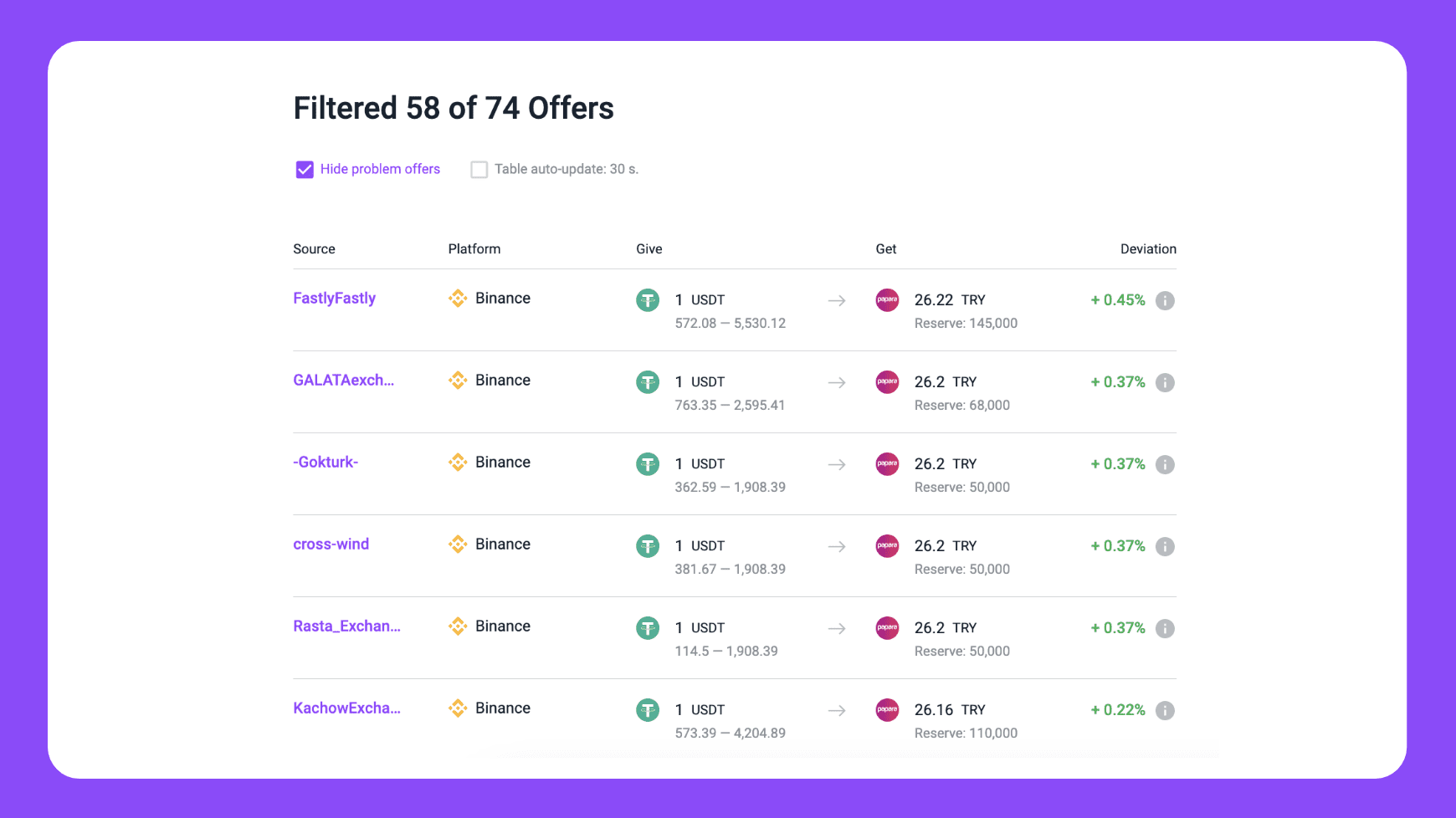 There are dozens of use cases for the Monetory search. And, for sure, you have already thought of yours. It's time to try! It's fast, convenient, and free.
This article may have been in your mail
Selected Monetory Blog content not to be missed - in our newsletters. Choose and subscribe - we're already preparing a newsletter for you.